News
Press Releases of Kelheim Fibres GmbH.
27. February 2023
Recycling Atelier Augsburg and Kelheim Fibres cooperate
Kelheim Fibres, the world's leading manufacturer of viscose speciality fibres, has joined Recycling Atelier Augsburg. Recycling Atelier Augsburg is a unique centre for research and development in the field of textile recycling. It is located at the Institut für Textiltechnik Augsburg an affiliated institute of Augsburg University of Applied Sciences. The two institutions founded the Recycling Atelier in June 2022 together with twelve partners from the German textile industry.
As a model factory, the Recycling Atelier Augsburg combines the most important processes of textile recycling and offers holistic and comprehensive research along the value chain," explains Georg Stegschuster, head of the Recycling Atelier Augsburg. The scientists research on all process steps of textile recycling: from material analysis to sorting, preparation and textile processing to sustainable product design. Comprehensive data collection and the use of artificial intelligence as well as innovative materials play a central role.
Kelheim Fibres is a producer of high-quality viscose fibres, which consist of cellulose, the main component of the renewable raw material wood, and are used worldwide for products in areas such as hygiene, textiles, and technical applications.
"In New Business Development as well as Fibre and Application Development, we follow the Open Innovation concept – the cooperation with the Recycling Atelier offers us an ideal platform for this. Here we work with partners to advance sustainability and performance," explains Maik Thiel, project manager at Kelheim Fibres.
Recycled cotton fibres are often very short or of uneven length, which makes further processing of 100 % recycled material a challenge. This is where the speciality fibres from Kelheim Fibres come into play, whose addition should enable the production of high-quality new products, such as nonwovens. In the future, the fibres provided by Kelheim Fibres will also be made from recycled pulp. Closing the loop further.
In the Recycling Atelier, the focus is on the triad of technical and ecological sense as well as economic benefit. In this way, the partners of the Recycling Atelier are standing up against fast fashion, outsourced corporate responsibility and a general decline in raw material quality, which often fuels downcycling – the low-quality reuse – of materials.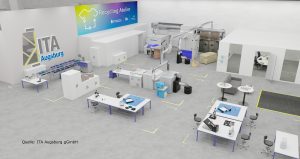 24. February 2023
Kelheim Fibres and SUMO present high-performance absorbent pads for washable Sumo diapers
Kelheim Fibres and SUMO are presenting their high-performance absorbent pads for the reusable Sumo diaper at this year's Cellulose Fibres Conference. The Sumo diaper is a sustainable and washable cloth diaper made entirely from biobased materials, offering high performance and innovative design.
The developers of the Sumo diaper recognized that many parents are looking for a healthy and sustainable alternative to synthetic disposable diapers, which create a tremendous amount of plastic waste. The Sumo diaper offers a reusable alternative, consisting of a waterproof shell and absorbent pads. To enhance the performance of the pads, Sumo collaborated with Kelheim Fibres, a leading viscose specialty fibre manufacturer with decades of experience in the hygiene sector.
Together with the Saxon Textile Research Institute STFI, Sumo and Kelheim Fibres have developed a high-performance absorbent pad that is free of fossil-based materials and has already been awarded the Techtextil Innovation Award. The basis for the innovative construction are Kelheim's functionalized specialty viscose fibres with modified cross-sections, which ensure particularly high absorbency and extremely low rewet values.
To ensure the washability of the product, needle-punched/thermally bonded nonwovens were chosen, consisting of a mixture of specialty viscose and PLA bicomponent fibres. By combining nonwovens, typically used in single-use applications, with reusable products, the partners have chosen a new approach.
Natalie Wunder, project manager at Kelheim Fibres, and Luisa Kahlfeldt, founder and designer of SUMO, explain in their joint presentation at the Cellulose Fibre Conference how open innovation has led to successful development collaboration, how this response to current consumer needs has emerged, and what steps are planned for the future.
17. January 2023
Kelheim Fibres welcomes EU agreement on deforestation-free supply chains
The renowned viscose fibre manufacturer Kelheim Fibres welcomes the preliminary political agreement reached between the European Parliament and the Council on an EU regulation on deforestation-free supply chains, which was adopted at the end of 2022. The new rules are intended to prevent goods that cause forest degradation or deforestation from being placed on the EU market.
As one of the largest economies worldwide, the EU is a major consumer of wood-based raw materials. Therefore, the new law can significantly contribute to reducing global deforestation and forest degradation as well as protecting threatened forest areas.
"Wood is an incredibly versatile and valuable renewable resource and the basis for countless products. Our viscose fibres are just one example – they offer an environmentally friendly alternative to synthetic materials in various applications and are thus a promising material for the future. Of course, this only applies if the production of our raw materials does not take place at the expense of our earth's natural forest resources. These forests are a bastion of biodiversity and climate protection for our entire planet and must be protected at all costs. No one can escape this responsibility," says Craig Barker, CEO at Kelheim Fibres.
Therefore, Kelheim Fibres has been exclusively using FSC® or PEFCTM certified pulps exclusively from sustainably managed sources for many years and has received a top spot in the HotButton ranking three times in a row. This ranking is compiled annually by the Canadian NGO Canopy that campaigns for the preservation of ancient and endangered forests.
20. December 2022
EcoVadis awards Kelheim Fibres with Gold again
EcoVadis, the world's largest provider of sustainability ratings for companies, awarded us Gold for the second time in a row. The rating was well above average in all four individual areas (environment, labour and human rights, ethics, sustainable procurement), but Kelheim Fibres achieved absolute top scores in the environment area in particular.
We are very proud to once again be among the top 3% of all companies evaluated and would like to say a big thank you to our entire team for this great achievement!
18. November 2022
Kelheim Fibres once again awarded with dark green/green shirt in Canopy's Hot Button Report
In this year's "Hot Button Report" released on November 9, 2022, by environmental NGO Canopy, Kelheim Fibres has once again achieved a top position with a dark green/green shirt and was able to improve its overall ranking by another 1.5 points compared to the previous year.
The Hot Button Report thus confirms the viscose speciality fibre manufacturer's leadership role when it comes to conserving Ancient and Endangered Forests. For example, Kelheim Fibres has once again increased the proportion of FSC®-certified pulp in its production and confirmed in an audit that its supply chain is low-risk of sourcing from Ancient and Endangered Forests. There was also credit for the active and public support of Canopy's work, as well as research and development of low impact Next Generation fibre solutions.
And finally, the Bavarians achieve top points in the areas of chemical management and transparency. As a member of the non-profit organisation ZDHC (Zero Discharge of Hazardous Chemicals), Kelheim Fibres supports their goal of completely eliminating harmful substances from the textile value chain. Furthermore, Kelheim Fibres is the only EMAS-validated viscose fibre manufacturer worldwide to regularly publish all relevant environmental data.
"We are proud to have improved again in the Hot Button Report and to be able to hold our own as a relatively small viscose fibre manufacturer among much larger companies," says Matthew North, Commercial Director at Kelheim Fibres. "Our fibres are an environmentally friendly alternative to synthetic materials – of course, this is only possible because we also live the environmental concept in the sourcing of our raw materials and in all steps of production."
17. October 2022
Kelheim Fibres partners with TextileGenesis for more transparency in the textile chain
Viscose speciality fibres manufacturer Kelheim Fibres partners with TextileGenesisTM, an award-winning
traceability platform that createsradical transparency from fibre-to-retail and ensures authenticity d provenance
of sustainable textiles against generics.
"Our wood-based fibres are an environmentally friendly basis for sustainable textiles – it's just that consumers
often don't know what's behind their garments. But they need to know it's in their hands to minimise the
ecological footprint of the textile industry. Transparency and traceability are the foundation that enables
consumers to make informed decisions.", says Dr. Marina Crnoja-Cosic, Director New Business Development at
Kelheim Fibres.
TextileGenesisTM uses blockchain technology to track and verify the use of sustainable fibres all the way from
fibre to garment. A digital fibercoin ensures transparency and reliability throughout the entire production line
and beyond.
Amit Gautam, Founder & CEO at TexileGenesisTM:"Fashion and textile value chain is undergoing major
transformation driven by sustainable materials, shifting consumer demand for sustainable products, and
increasingly stringent regulations on transparency. Great to see Kelheim moving the industry forward by actively
participating in the traceability journey".
25. August 2022
Best practice examples on Trend Management and Open Innovation: Kelheim Fibres at the Global Fiber Congress 2022 in Dornbirn
Shorter product life cycles and rapid technological progress are changing our product landscape at an ever-faster pace. The ability to anticipate future changes and to proactively shape the change – instead of running to keep up with it – is therefore an increasingly decisive competitive factor for modern companies. Trends are considered to be important indicators of impending change.
Kelheim Fibres, the world's leading manufacturer of viscose speciality fibres, stands out in the industry not least for its innovative strength, as evidenced by numerous awards such as the Techtextil Innovation Award 2022 in the "New Concept" category. At this year's Global Fiber Congress Dornbirn, Innovation Manager Ilka Kaczmarek will give an insight into the innovation management of the Bavarian fibre experts in her presentation "Trend Management meets Open Innovation: Best Practice Examples from Kelheim". Ilka Kaczmarek will show how successful product solutions were developed in a short time by focusing on customer needs and working closely with partners along the value chain.
Natalie Wunder, Project Manager at Kelheim Fibres, will explain one of these examples in detail in her presentation "Development of Menstruation Pants using Speciality Viscose Fibres". Based on the current trend and the desire of end customers for reusable products, Kelheim Fibres was able to develop a washable and thus reusable, yet bio-based solution for feminine hygiene products.
In addition to the presentations, the Kelheim Fibres team is also looking forward to exchange ideas and inspirations at their information stand at the Dornbirn GFC.
21. June 2022
Opening the door to Bio-based Nonwovens in Reusable Textiles – Kelheim Fibres wins Techtextil Innovation Award
The renowned viscose specialities manufacturer Kelheim Fibres has won the Techtextil Award in the "New Concept" category for their project "Cellulose-based nonwovens for highly absorbent reusable products".
This award is intended to make cutting-edge developments visible, promote unconventional thinking and intensify the dialogue between researchers, manufacturers, and users – and thus exactly matches the philosophy of the fibre expert.
Dr. Marina Crnoja-Cosic, Director New Business Development at Kelheim Fibres: "It is a great honour and pleasure for us to receive the Techtextil Award. We see the award not only as an acknowledgement for the project presented, but also as a recognition of our innovation strategy. Our open innovation concept aims at dialogue and the associated acceleration of the commercialisation of innovative solutions. In this specific example, it has been shown that together with our partners, the Saxony Textile Research Institute STFI and Sumo, we have been able to react faster and more specifically to current trends. Together we achieved a better result. By joining forces, we have developed a product that optimally combines performance and sustainability."
The starting point for the innovation was the search for a washable and thus reusable absorbent pad made of completely bio-based materials for the cloth diaper of the Berlin-based start-up Sumo.
Two main requirements of the application are obvious: A fast and efficient liquid distribution and high absorbency should minimise rewetting and leakage. Both are ensured by speciality viscose fibres from Kelheim, which have been making this essential contribution to absorbent hygiene products such as tampons for many years.
The obvious solution was therefore to optimally utilise the synergies between knitted and woven structures with nonwovens.
In doing so, the advantages of nonwovens in combination with speciality viscose fibres in terms of absorbency (through e.g. more open-pored structures) have been perfectly transferred from the field of disposable to the world of reusable products. For reusable products, however, there is another challenge to overcome: they must remain stable during washing and over several cycles of use. To ensure this, an innovative nonwoven construction was developed in close cooperation with the STFI. These nonwovens can be used as a stand-alone solution or integrated into a textile structure.
In the Sumo cloth diaper, the liquid management of the absorbent pad sets new standards. The new solution combines the worlds of nonwovens and textiles and provides proof that high-performance reusable absorbent products can be developed without fossil materials.
2. March 2022
Sumo & Kelheim Fibres develop sustainable and high-performance absorbent washable diaper pad
Up to the age of three, a baby uses around 5,000 diapers – and although common disposable diapers score points with their convenient handling, parents are increasingly looking for a healthy and sustainable alternative to these products, which are in most cases synthetic. After all, they cause an enormous amount of plastic waste – in Germany alone, 10 million diapers are disposed of every day.
There are two ways to solve this dilemma: Either disposable products are made from bio-based or biodegradable materials, or reusable products with a longer life span replace disposable products.
Founding team Luisa Kahlfeldt and Caspar Böhme go even further and combine both with their "Sumo Diapers." They have created a reusable cloth diaper that is made entirely of sustainable materials while offering high performance and innovative design.
The Sumo Diaper is a fitted cloth diaper that consists of a waterproof cover and absorbent inserts. The cover is sewn in such a way that a pocket is formed: this is where the absorbent pad is inserted to prevent slipping.
To further enhance the performance of this absorbent pad, the Sumo team went in search of a partner and found one in the renowned viscose special fibre manufacturer Kelheim Fibres. "Kelheim Fibres' specialty fibres are a perfect fit for us. Like all the fabrics we have developed for Sumo diapers, the fibres in the insert developed with Kelheim are based on cellulose and are biodegradable. They are as good to baby's skin as they are to the environment, and – thanks to their targeted functionalisation – they outperform other cellulosic fibres, as well as synthetic fibres," says designer Luisa Kahlfeldt.
Beyond that, Kelheim Fibres brings decades of experience from the hygiene sector, especially for sensitive applications where high absorbency is required (such as tampons), and has made a name for itself in the industry as an innovation pioneer.
Together, Sumo and Kelheim Fibres have developed a high-performance absorbent pad that uses no fossil materials.
The basis for the innovative design form Kelheim's functionalised specialty viscose fibres with adapted cross-sections. Needle-punched / thermobonded nonwovens with a blend of specialty viscose and PLA bicomponent fibres were chosen to ensure the product's washability. PLA stands for polylactic acid made from natural and renewable raw materials. By combining nonwovens, usually found mainly in the single-use sector, with reusable products, Sumo and Kelheim Fibres have chosen a completely new approach.
Inside the pad, the speciality fibres from Kelheim score with their special properties: In the distribution layer (ADL), the trilobal cross-section of the Galaxy® fibre forms capillary channels that enable efficient and optimized liquid distribution and thus optimum use of the capacity of the absorbent core, offering the lowest rewet values.
In the absorbent core, the segmented hollow fibre Bramante stores liquid not only between but also inside the fibre. The liquid remains there even when pressure is applied to the construction, providing excellent rewet values. Bramante can absorb up to 260% of its own weight in liquid (cotton only achieves values of around 50% here).
The innovative nonwoven construction with the speciality fibres from Kelheim performs significantly better in tests in terms of air permeability, liquid absorption and rewetting than commercially available solutions made of synthetic fibres or cotton in knitted structures, and has earned Sumo diapers a place among the finalists for the IDEA® Long-Life Product Achievement Award.
Dr. Marina Crnoja-Cosic, Director New Business Development at Kelheim Fibres, said, "Working with Sumo is inspiring and professional in equal measure. We share a passion for driving the transformation to a bio-based society with innovative solutions. The entire Kelheim Fibres project team, led by Innovation Manager Ilka Kaczmarek and Project Manager Dominik Mayer, is very proud that our fibres are now part of the Sumo diaper, offering young parents a sustainable product that meets their need for a comfortable, reliable and skin-friendly diaper solution for their babies."
The launch is scheduled for the first of May.
4. February 2022
Kelheim Fibres again on the podium at the Cellulose Fibre Innovation of the Year Award
For the second time in a row, the speciality viscose fibre manufacturer Kelheim Fibres was awarded a place on the podium at the Cellulose Fibre Innovation of the Year Awards. The concept for sustainable menstrual underwear made from Kelheim's functionalised speciality fibres achieved third place. Kelheim Fibres thus emerges from the competition as the most innovative fibre manufacturer.
Natalie Wunder presented the promising concept from Kelheim at the International Conference on Cellulose Fibres and is pleased about the great interest and the placing: "We have been able to use our experience as a long-established supplier for the tampon industry to develop further sustainable solutions in the feminine hygiene sector, in this case reusable menstrual underwear. As an innovation pioneer, we are thus helping to break the taboos that surround the topic of menstruation. We offer women the choice between different environmentally friendly products which also offer high levels of performance – depending on what fits their lifestyle."
For the next step, the commercialisation of the concept, Dr Marina Crnoja-Cosic, Director New Business Development at Kelheim Fibres, puts her trust in the proven open innovation approach: "We want to bring partners from the entire value chain together. By bringing in our joint expertise, we can significantly accelerate the path from idea to finished product in the market. At the same time, through open dialogue, we ensure that the concept works seamlessly from fibre through processing to the final product."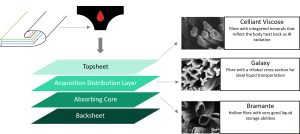 12. January 2022
Kelheim Fibres publishes Sustainability Report
Kelheim Fibres, the world's leading manufacturer of viscose speciality fibres, has published its first Sustainability Report. Sustainability Manager Timo Thunitgut is very pleased to have reached this milestone: "Credibility and trust are based on transparency. Our Sustainability Report according to the framework of the UN Global Compact follows these principles and presents our actions fully transparently. It shows how we as a company live up to our responsibility for people and the environment; it reveals our contribution to combatting one of the biggest global problems of our time – the increasing waste problem caused by disposable plastic products – with our biodegradable fibres."
As part of their EMAS certification, the Bavarians have already been publishing an annual environmental statement since 2020, in which all relevant environmental data are available to the public. The Sustainability Report, which will also be published annually, goes one step further here – it covers not only the company's environmental performance, but also Corporate Social Responsibility as a whole.
Following this approach, the fibre experts have also created a new structure internally, which gives even more weight to the area of CSR: In future, all sustainability topics will be centrally integrated in the new CSR department (formerly HSE, Health, Safety & Environment) under the leadership of Wolfgang Ott. Wolfgang Ott: "Responsible corporate behaviour is and will increasingly become a relevant competitive differentiator. By bundling all CSR aspects in one department, our CSR performance, a topic that has been firmly anchored in our philosophy for years, will gain even more visibility and impact."
See our Sustainability Report 2021.
20. December 2021
Kelheim Fibres – Severe Impact of Natural Gas Price Increases
Over the past 14 days, the wholesale cost of natural gas in Germany has risen by more than 50%. This increase presents an extraordinary challenge for industry, and there is no sign of support or intervention from the Government. Indeed, recent statements are destined to provoke a worsening of the situation.
Kelheim Fibres is entirely dependent on natural gas for the generation of electrical energy and steam and has no viable short-term alternatives. In addition, the raw materials used by the company often consume high levels of energy in their production and are also increasing significantly in cost. These increases in cost jeopardise the future of the business if they cannot be passed on though the supply chain.
Kelheim Fibres is calling on the Government of Germany to take immediate steps to mitigate the impact of the cost increases for natural gas and is committed to work to implement alternative sources of energy in the medium term.
In parallel, the disruption to global logistic networks that has been seen throughout 2021 is now expected to continue throughout 2022. Massive increases in shipping rates – in some cases in excess of 80% – are being imposed without notice and with no opportunity for negotiation. These costs must also be passed on though the supply chain if businesses are to remain viable.
To address these issues, Kelheim Fibres is implementing the following measures with immediate effect:
The increased cost of energy and freight will be passed on in prices to customers at the soonest opportunity;
If necessary, changes or adjustments to existing agreements will be negotiated to reflect the increased cost levels;
If the necessary increase in fibre prices cannot be secured, cuts to production will be implemented with the objective of minimising losses until the cost increases can be mitigated.
As the drivers for the increases in natural gas prices appear to be temporary in nature, we will maintain any price adjustments under review and pass on any relief to customers.
Craig Barker, CEO of Kelheim Fibres, describes the current situation as critical. "The cost increases we are facing are unprecedented and call for swift and decisive action. We are determined to take the necessary steps to preserve the future of our business and provide security of supply for our customers. At the same time, we are relying on the support of our customers to help us conquer the challenges our business is facing."
15. November 2021
Kelheim Fibres once again finishes high in Canopy's Hot Button Ranking
In the Canopy's 2021 Hot Button Ranking, Kelheim Fibres once again occupies a leading position: With a increase of 2.5 points in the evaluation, the Bavarian viscose speciality fibre manufacturer tied for third place out of around 40 viscose fibre manufacturers worldwide and a dark green/green shirt for the second year running. The Hot Button Report not only stands for responsible raw material sourcing – it is an overall sustainability indicator for viscose fibre producers.
Especially in the areas of transparency and procurement, the NGO Canopy, which is committed to the preservation of ancient and endangered forests, awarded Kelheim Fibres top points: Kelheim Fibres is the only EMAS-certified viscose fibre manufacturer worldwide and publishes all environmentally relevant data publicly.
Kelheim Fibres also gained points in the area of "Next Generation Solutions" – the use of alternative raw materials in fibre production. Together with the Swedish textile recycling company Renewcell, the fibre experts are planning to realise the large-scale production of high-quality viscose fibres from up to 10,000 tonnes of the 100% textile recyclate Circulose® per year.
"As a manufacturing company, we take our responsibility towards the environment very seriously. Sustainable action must begin with the raw materials on which our products are based: Trees, and in particular the ancient and endangered forests of our planet, play an important role in climate protection as carbon reservoirs, as well as for biodiversity and many other ecological processes. It is our duty to protect this valuable and irreplaceable resource," says Matthew North, Commercial Director at Kelheim Fibres. "We are very proud of our position in the Hot Button Ranking and will expand our pioneering role even further in the future."
19. October 2021
Renewcell and Kelheim Fibres form collaboration to establish a European closed loop for fashion
Today, Renewcell and Kelheim Fibres Gmbh have signed a Letter of Intent for a long term commercial collaboration to add the crucial missing link for a circular economy for textiles in Europe. Together, the two technology leaders will collaborate on developing commercial scale production of superior quality viscose fibers from up to 10 000 tonnes of Renewcell's 100% textile recycled material Circulose® annually. The collaboration paves the way toward a fully European closed loop in which textile waste is collected, recycled and regenerated into new Circulose® fibers for people that want to reduce their fashion footprint significantly.
"European fashion consumption has great impact on climate and the environment globally. It also contributes to tremendous amounts of waste going into landfill and incinerators either in Europe or abroad after export. We will now work with Kelheim to prevent waste and reduce the need for virgin resources, while also enabling a fully regional supply of low impact circular fibers for textiles" comments Patrik Lundström, CEO of Renewcell. "We are thrilled for the opportunity to work closely with a partner like Kelheim, who is at the leading edge of innovation and sustainability in this industry" he adds.
Craig Barker, CEO at Kelheim Fibres adds: "We see an excellent fit between our two companies, not only on the technical side – with Renewcell we have found a highly professional partner who shares our vision for future-forward technologies that enable full circularity in the textile chain. Finding the answers to the challenges of our times is what drives us every day.
Our recycled cellulose fibre solution – made of Renewcell's Circulose® and manufactured using environmentally sound processes at our Kelheim plant – is an answer to the fashion industries need for sustainable, resource- and waste-reducing solutions, and a more regional and reliable supply chain."
See also: www.renewcell.com
14. October 2021
Gold status for Kelheim Fibres in EcoVadis CSR rating
The German speciality viscose fibre manufacturer Kelheim Fibres was awarded gold in the CSR rating by EcoVadis, scoring among the top 3% of all companies evaluated.
The rating was well above average in all four individual areas (environment, labour and human rights, ethics, sustainable procurement), but Kelheim Fibres achieved absolute top scores in the environment area in particular.
"We create plant-based specialty fibres that enable healthy lifestyles while helping to preserve our environment for future generations," said Craig Barker, CEO at Kelheim Fibres. "Environmentally friendly production and our overall environmental, social and ethical performance is the measure of how seriously we take our own aspirations."
"We don't want to rest on our gold medal: As always, when we face an assessment like EcoVadis, we welcome any suggestions for improvement – constantly improving is a core element of our strategy for the future" Barker continued.
In addition to the excellent EcoVadis rating, Kelheim Fibres is also the first viscose fibre producer worldwide with a certified EMAS environmental management system and ranked highly in the Canadian NGO Canopy's "Hot Button Report" for sustainable wood and pulp sourcing.
Since its founding in 2007, EcoVadis has grown to become the world's largest and most trusted provider of business sustainability ratings, creating a global network of more than 75,000 rated companies.
13. October 2021
Plastic Free World: Functional cellulosic fibres as a substitute for synthetics in high-performance applications
Reducing global plastic pollution is the central theme of the Plastic Free World Conference, which will take place in Cologne in November 2021.
While circularity is undeniably a sensible step towards combating the problem, German viscose speciality fibre manufacturer Kelheim Fibres is focusing on the root of the problem: "Recycling is good – avoiding plastic in the first place is better," says Ilka Kaczmarek, Innovation Manager at Kelheim Fibres.
For this, materials are needed that are able to replace synthetic product components without the end consumer having to accept compromises in product performance.
"Our speciality fibres are such an alternative as they perfectly combine the advantages of natural fibres and synthetic fibres. They are plant-based and biodegradable like natural fibres – but can be functionalised during the production process so that they achieve the performance values of synthetic fibres," says Kaczmarek.
Kelheim Fibres was nominated for the German Sustainability Award in 2021 with their fibre concept for AHP and supplies solutions for a diverse range of areas of application: hygiene products intended for convenient single use such as the just mentioned AHP (absorbent hygiene products, e.g. sanitary towels), wipes or facial masks benefit from the environmentally friendly fibres just as much as reusable products. In the hygiene sector, these include period panties, which are enjoying growing popularity.
But trendy well-being textiles also benefit from the special fibres from Kelheim: they can be functionalised according to the needs of the application and thus actively contribute to the well-being of the wearer – for example through increased wearing comfort, thermoregulating properties or even through a built-in infrared effect as in the case of Celliant Viscose.
How Kelheim Fibres is developing functional cellulosic fibres for high-performance applications thanks to flexible technology and open innovation, and thus replacing more and more synthetic fibres, will be the topic of Ilka Kaczmarek's presentation at the conference on 10.11. at 3.15 pm.
15. September 2021
Innovative Viscose Specialities from Kelheim Fibres: A Sustainable Blend of Nature and Performance
Not only since 2021 has sustainability been a topic high on society's agenda. And yet the importance of sustainability for consumers and companies has once again increased sharply as a result of the Corona pandemic, as numerous studies confirm. Then why is it often so difficult to implement this conviction in everyday life? One of the biggest obstacles to sustainable consumer behaviour is the lack of availability of alternatives.
Kelheim Fibres, German viscose speciality fibre manufacturer and a fixture in the nonwovens industry for decades, offers a solution: innovative bio-based fibres that are a real alternative to synthetic materials in a wide range of applications.
Combining nature with Performance
"We want to make it easy for consumers to choose an environmentally friendly option. That's the case when bio-based solutions offer the same performance as synthetic products," said Matthew North, Commercial Director at Kelheim Fibres." Our fibre technology allows us to create just that: unlike natural fibres, which are available already in fibre form and can only be treated on the surface, we can engineer the properties of our fibres they need for specific applications by specifically intervening in the production process. That way we combine nature – our fibres are made of wood pulp – with performance.""
This is how, for example, a series of special fibres for environmentally friendly Absorbent Hygiene Products (AHP) were created. These fibres have to fulfil different functions: While some ensure that liquids are passed on quickly, others score points for good distribution, particularly good absorbency or retention capacity. These fibres enable the production of completely biodegradable (feminine) hygiene products that do not need to hide behind their synthetic counterparts in terms of performance – a decisive aspect for the buyer, especially in the sensitive hygiene sector. In developing the AHP fibres, Kelheim was also able to draw on its expertise in the field of tampon fibres, where it has been the market leader for many years with its particularly absorbent Galaxy® fibre.
Another example is Kelheim's special fibres for flushable wipes: VILOFT® short-cut fibres, in combination with modern production technology, enable the manufacture of soft wet wipes that remain reliably stable during use but subsequently dissolve in a very short time. In addition, they are also fully biodegradable and thus help to reduce plastic pollution of our waters.
Shifting from a fossil-based to a bio-based economy
In addition to changing consumer demands, the EU Commission's recent decision on the single-use plastics directive is also prompting many nonwovens manufacturers to look at alternative solutions. Kelheim Fibres presents itself as the ideal partner at this year's INDEX in Geneva and online. The Bavarians not only bring decades of experience in the nonwovens and hygiene sector, but also enormous innovative power: "Our open innovation concept aims to find the best individual solutions in close dialogue with our partners along the value chain and to address unmet needs in the market." Says Dr Marina Crnoja-Cosic, Director New Business at Kelheim Fibres.
Kelheim's special fibres are made of wood pulp from sustainably managed sources, are produced in Kelheim in an environmentally friendly way and are fully biodegradable at the end of their product life. Kelheim Fibres is the first viscose fibre manufacturer in the world with an EMAS validated Environmental Management System and was awarded a dark green/light green shirt in the most recent Canopy HotButton-Ranking.
7. September 2021
Kelheim Fibres to Increase Viscose Fibre Prices from 1. October 2021
The year 2021 has brought extraordinary challenges for society and for industry. Alongside the Covid-19 pandemic, recovering demand, disruption in the global freight systems and dramatically increased energy costs due to reduced supply and emissions trading schemes and their consequences are driving significant cost increases for raw materials and negatively influencing supply chains. Prices for energy and freight currently lie well outside their historical ranges.
Kelheim Fibres GmbH has been successful in limiting the impact of the pandemic on fibre production. However, as a company operating its own cogeneration energy plant and with a high level of export business outside Europe, these cost factors have had a severe negative impact on margins during the second and third quarters of 2021. With energy costs set to remain at unprecedentedly high levels and potentially increase further in the fourth quarter, no relief to the high level of freight costs foreseeable, and raw material costs also remaining at a high level, the company needs to take steps to prevent further margin erosion.
Kelheim Fibres GmbH is therefore announcing that with effect from 01. October 2021, or as contracts and agreements allow, prices for its range of viscose fibres will be increased by €0,20/kg. In addition, freight cost adjustments will be applied on an individual customer basis. In cases where energy cost adjustments are not included in contracts and agreements, a temporary energy surcharge will be applied.
"The measures we are taking are absolutely necessary to ensure that Kelheim Fibres remains in a position to supply fibres with the levels of quality and service expected by our customers," says Matthew North, Commercial Director of Kelheim Fibres.
Kelheim Fibres' Business Managers will be in contact with individual customers during September with further information.
1. September 2021
The Story behind the Development of CELLIANT® Viscose presented at Dornbirn Global Conference » World's first in-fiber sustainable infrared viscose »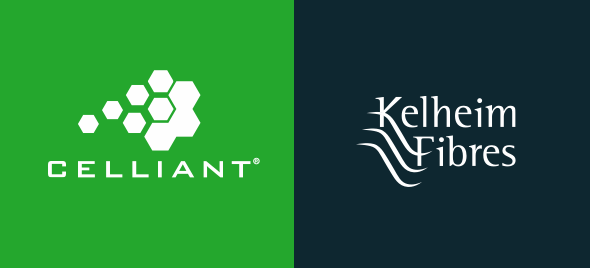 Kelheim Fibres, the leading manufacturer of viscose specialty fibers, and Hologenix®, creators of CELLIANT®, a responsive textile using infrared technology, partnered to create CELLIANT® viscose, a unique  combination of nature and performance.  Dominik Mayer, Kelheim's Project Manager for Fibre & Application Development, and Courtney OKeefe, Hologenix's Chief Supply Officer, will share the story of how this first in-fiber sustainable solution on the market was developed.  They will present at a webinar during the Dornbirn Global Fiber Conference Thursday, September 16, at 5:50 pm CEST.
CELLIANT viscose in blends with cotton, regular viscose, MicroModal®, lyocell and wool offers a range of varieties. Among the many applications, it is ideal for performance wear, luxury loungewear, casual wear, bedding, towels and beauty.
CELLIANT viscose features natural, ethically sourced minerals embedded into plant-based fibers to create infrared products that capture and convert body heat into infrared, improving cellular oxygenation.
Kelheim's flexible technology permits targeted interventions in the viscose fiber process and delivers this unique fiber that provides full functionality without the need for any additional processing steps, while impressing with a softer feel and cost and time savings compared to coated fabrics.
CELLIANT viscose is available in the following fiber types: Textile 1,7 dtex/40 mm, Nonwovens 1,7 dtex/40 mm, Wool 2,5 dtex/Variable Cut, Filling/Nonwovens 6,7 dtex/60 mm.
To sign up for the presentation, visit: https://www.dornbirn-gfc.com/en/
To learn more about Celliant viscose, visit: https://celliant.com/celliant-viscose/
Link to high-res. photos: https://spaces.hightail.com/space/W7CnIjbN3K
About Hologenix
Hologenix®, headquartered in Pacific Palisades, California, is a materials science innovation company producing products that energize all aspects of life. Its flagship product, CELLIANT®, is a responsive textile using infrared technology that provides a myriad of wellness benefits and is an ingredient in world-class brands across multiple industries.
CELLIANT is rigorously tested by a Science Advisory Board composed of experts in the fields of photobiology, nanotechnology, sleep medicine, and diabetes and wound care.
The Science Advisory Board has overseen 9 peer-reviewed published studies that demonstrate CELLIANT's effectiveness and the benefits of infrared energy.
www.celliant.com
26. August 2021
Circular economy at Kelheim Fibres: Examples of innovation from raw material, product design and all the way to "end of life"
A sustainable product is a mosaic of many individual building blocks – Kelheim Fibres, the world's first viscose fibre producer with an EMAS-certified environmental management system, is constantly working to further improve every single one of these building blocks.
The innovative viscose special fibres from Kelheim can be functionalised as required – this often saves further processing steps (such as dyeing or coating) and thus also energy, water and chemicals. At the end of their product life, fibres from Kelheim are completely biodegradable in a short time (according to OECD Test 301 B) and thus contribute to the preservation of valuable habitats.
Now Kelheim Fibres is taking a step further: the fibre specialists are working on the development of alternative raw materials, such as recycled cellulose as well as other cellulosic feedstocks for the production of their viscose fibres. One approach to closing the product loop in the textile sector is the use of pulp produced from recycled post-consumer waste materials.
Kelheim Fibres offers its customers innovative viscose fibres made exclusively from certified wood from sustainably managed forests for the production of plastic-free and biodegradable end products.
In production, Kelheim Fibres focuses on conserving resources by minimising emissions and waste. This happens through closed-loop recovery systems as well as a highly efficient energy generation and the energy-efficient operation of the plants.
Find out more in the lecture by Dr Roland Scholz, Project Manager Fibre and Application Development at Kelheim Fibres, on Wednesday, 15 September, at 5.50 p.m., in Hall B of the 60th Dornbirn GFC WEBINAR WEEK.